Home | About | Research | Books | Working Papers | Store | Contact
References
Mike Huckabee. Character Makes a Difference. Nashville: B&H Publishing Group, 2007.
Proposed Rectification:
Mike Huckabee
11:33:55 PM
CST +6:00
24 August 1955
Hope, AR
ASC = 9GE48'20"
At present, there is no reported birth time for Mike Huckabee.
STAGE I: Determine the Ascendant Sign.
Fidaria. Factors favoring nocturnal sequence:
Major Jupiter Period. 24 August 1975 – 23 August 1987. Worked with televangelist James Robison who mentored Huckabee in media communications. A match to Jupiter/Leo in the 3rd house of communications/publicity. Jupiter-Sun subperiod 27 January 1979 – 14 October 1980. Became congressional pastor.
North Node. 24 August 1994 – 23 August 1997. Ran for Senate and acceded to position of Arkansas Governor after Governor Jim Tucker's indictment on fraud and conspiracy charges.
South Node. 24 August 1997 – 23 August 1999. Protests against welfare reform (29 April 1998), the Jonesboro School Massacre (24 March 1998), and the commutation of Bobby Ray Fretwell's death sentence (6 February 1999) marred the period.
Major Sun Period. 24 Aug 1999 – 23 August 2009. Selected Subperiods:
Sun-Venus. 26 Jan 2001. Teacher salaries raised $3000 by Arkansas House of Representatives (29 March 2001), a legislative priority of Huckabee. Venus falls in 3rd of primary education. Sun falls in 4th, 2nd from 3rd, or teacher's money by derived houses.
Sun-Mercury. 3 July 2002. Moved back into governor's mansion, two years into a $5 million renovation, 25 July 2002. Renovations continued for balance of Mercury subperiod. Characterization of house as 'abuzz with activity' (New York Times, 25 July 2002) is consistent with Mercury/Virgo which denotes workers as busybodies because Mercury is the universal significator of workers and Virgo is the sign of meticulous detail. Mercury is placed in the 4th of real estate. Mercury/Virgo also signifies Huckabee's own One Minute Manager executive style.
Sun-Saturn. 11 May 2005. Published Quit Digging Your Grave with a Knife and Fork on 10 May 2005. Saturn/Scorpio ruling the 8th of death in the 6th of illness is a match to this event because Saturn/Scorpio's paranoia and fear acts as a motivator to lose weight.
Sun-Jupiter. 14 Oct 2006. Appeared on celebrity roster for New York City Marathon (8 November) as published in the New York Times, 29 October 2006. This was Huckabee's 4th marathon. During this subperiod Huckabee announced his Presidential Bid (29 January 2007) and as of early December 2007 achieved frontrunner status in polling for the Iowa caucus.
Moon's sign and position. Moon falls in Scorpio the entire day of Huckabee's birth. Choice of Nocturnal Fidaria sequence means the Moon's range is either 18SC09 – 20SC53 or 27SC23 – 29SC58. Position of tr. Jupiter 29TA07 on day of his Covenant Marriage Ceremony 14 February 2005 suggests the latter Moon position, but this is not conclusive. Lack of event data for his mother, wife, and daughter makes testing the trial Moon position difficult.
Moon's aspects. Given the Moon's degree range, there are four possible aspect combinations:
Moon separates from Saturn and applies to Mercury
Moon separates from Mercury and applies to Mars
Moon separates from Mars and applies to Venus
Moon separates from Venus and is void of course
Of these four possibilities, I suggest the Moon's separation from Venus to a void of course position is the best match for Huckabee's long-term life path. To date, the most important career shift Huckabee made was from the priesthood to politics on 3 February 1991 when his resignation of pastoral duties took effect. In Character Makes a Difference (2007), Huckabee stated he became disillusioned when his congregation made petty issues ranging from the appropriateness of food menus, clothing color coordination to music volume their chief concerns; effectively making Huckabee an 'ordained cruise director' (Huckabee, 47). These congregational desires are a match to Venus/Leo in Huckabee's figure. That Huckabee left these concerns behind suggests Venus/Leo is a planet the Moon separates from as Huckabee ages.
If so, this narrows Huckabee's birth time to 10:33 p.m. – 12 Midnight, making his Ascendant either Taurus or Gemini.
Physiognamy.
<![if !vml]>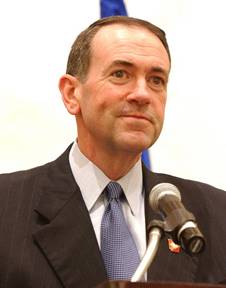 <![endif]>
Source: http://www.healthierus.gov/steps/photo/
Public domain image
This photograph of Mike Huckabee speaking at an event organized by the Department of Health and Human Services is a textbook example of the Virgo facial appearance (Judith Hill, Astrological Body Types, Bayside, CA.: Borderland Sciences Research Foundation, 1997, p. 63). Features of the Virgo face include an oval to oval-round head, a thin and precisely drawn mouth, and a tapered chin. Huckabee is a dead-ringer for Hill's drawing of the Virgo face (see p. 71).
If Virgo dominates Huckabee's facial features, then his Ascendant must be Gemini, not Taurus. Furthermore, as ruler of the first decan of Gemini, Mercury/Virgo suggests Huckabee's birth time can be narrowed to the range of 10:58 p.m. – 11:34 p.m. in order for the first decan of Gemini to rise.
Given the choice of nocturnal Fidaria sequence, the only other Ascendant possibility consistent with the dominant Virgo facial features is Virgo rising just before sunrise. With the Sun in the second degree of Virgo, that leaves less than an 8 minute window before the Sun rises and the Fidaria changes to the diurnal sequence. That's pretty tight and does not match the Moon's separation from Venus as delineated above.
Configuration of Chart
A trial figure cast for 11:16 p.m., 5 Gemini rising, yields several matches to Huckabee's life affairs. First is Sagittarius on the 7th, ruled by Jupiter/Leo, as significator of his wife whose vigorous athletic adventures have included bungee jumping. Second is his Aquarius Midheaven falling in the 9th house by whole signs, making religion a primary focus of Huckabee's career. Lord Saturn/Scorpio signifies of fear and paranoia. Scorpio is a fixed sign as is Aquarius, the Midheaven and 9th whole sign house cusp. Now consider this statement:
A person with a biblical worldview says humans are by nature selfish. We are not basically good; rather, we are basically self-centered, look out for ourselves first, and preserve ourselves first at all costs. Only two things will change this behavior: either our nature will be changed by a supernatural experience with God through Christ, or we will fear the consequences of not doing the right thing. If we remove those consequences and make it easy to steal and lie with impunity, then we will do those things freely. We will do whatever brings us pleasure (Huckabee, p. 112).
Huckabee's theology is one of absolutes (fixed signs) and fear/paranoia (Saturn/Scorpio). That Huckabee presents himself with a more positive message shows the influence of Jupiter/Leo which separates from the square of Saturn. The fear/paranoia of Saturn/Scorpio is an influence which Huckabee leaves behind as he ages because the aspect separates. Though Jupiter does not rule the 9th house of God, Jupiter is conjunct the Part of Faith and is ruled by the unafflicted Sun. In the final rectification, Jupiter will prove to be the Ascendant's bound ruler, giving Jupiter another claim on Huckabee.
STAGE II: Confirm Ascendant to 1-4 degrees.
My first attempts to narrow the degree range of the angles focused on the possibility of the 2nd degree of Gemini rising and the 13th degree of Aquarius culminating. This matched the transit of Saturn 12AQ07 on the date of his 3 November 1992 losing Senate race to Dale Bumpers and c. tr. Jupiter 12AQ30 on the date he was sworn in as Governor on 15 July 1996. Yet further testing ruled out this possibility.
In A Rectification Manual, I state that Arabic Parts are the bread and butter of Stage II Rectification. Huckabee is an excellent example.
Marriage
Huckabee was married on 25 May 1974 and affirmed his marriage in a Covenent Marriage Ceremony on 14 February 2005. Using the principle that solar return planets activate natal Arabic Parts by aspect (see Chapter 11, A Rectification Manual), I note the following solar return planet positions in the respective 1974 and 2004 solar returns prior to both marriage ceremonies: Venus 6LI34 (1974 return) and Jupiter 23VI09 (2004 return) aspect by contra-antiscia. In the final rectification, both solar return planets aspect the Part of Marriage of Men a/c Hermes 23PI31 and its antiscion 6LI29 within a few minutes of degree.
Death of Father
Huckabee's father died on 31 March 1996. The position of d.s.a. Jupiter at 25VI14 was opposed to the Part of the Father 25PI09 on this date. By quadrant houses, Pisces falls on the 11th house, or 8th from the 4th, death of father. Jupiter rules Pisces.
Both of these Arabic Part examples are sufficient to narrow the Ascendant to the 10th degree of Gemini, meeting the goal of Stage II rectification to narrow the Ascendant range to 1-4 degrees.
STAGE III: Compute the exact degree and minute of the Ascendant.
Transits
22 October 1978. c. tr. Jupiter 20LE43 conj. IC. Death of grandfather Virgil Huckabee.
9 November 2002. tr. North Node conj. ASC. Re-elected AK Governor, November 2002.
20 February 2005. c. tr. South Node conj. MC. Covenant Marriage Ceremony, 14 February.
Solar Arc Directions
29 June 1993. d.s.a. North Node sextile Moon. Elected Lieutenant Governor, exact date.
10 July 1996. d.s.a. MC trine Uranus. The day Huckabee was sworn in as AK Governor, sitting Governor Jim Tucker decided not to resign, then resigned under pressure – all within a few hour period on 16 July - in a high stakes Arkansas political drama.
1 March 1997. c.s.a. ASC square Uranus. Major tornado cut 260-mile path of destruction through Arkansas.
*LOCK* 28 September 2005. d.s.a. Sun trine MC. Ouachita Baptist University appointed Huckabee Director of Center for Education and Public Policy, exact date.
1 November 2007. c.s.a Moon trine ASC. New York Times reported on 3 November that Huckabee described the Law of the Sea Treaty "one of the defining issues of our time" and one of the "dumbest things we've ever done." Huckabee earlier had issued a press release stating his opposition to Senate ratification of the Treaty on 9 October 2007 (www.mikehuckabee.com). The treaty entered into force on 16 November 1994 but has not yet been ratified by the US Senate. I have not seen detailed comments on this issue by Huckabee. Huckabee appears opposed to the treaty because he feels it unfairly limits United States sovereignty over ocean territory. How does this issue match Moon/Scorpio?
The significations of Moon/Scorpio include the need for naval warfare. President Jimmy Carter is a good example, with Moon/Scorpio matching his early Naval career as a nuclear submarine officer. For Huckabee, Moon/Scorpio is ruled by Mars/Leo which signifies fighting for honor – even if a rebellion is required. Presumably Huckabee's willingness to fight for honor (Mars/Leo) is the cause for his interest in naval warfare (Moon/Scorpio). He must see the Treaty as an interference in the United States' ability to conduct military maneuvers in the oceans. Note Moon is the exalted ruler of the 12th of enemies; also mistakes. Huckabee's opposition to this Treaty is not shared in the Senate and is seen by opponents as an example of his poor understanding of foreign policy affairs.
Primary Directions.
26 May – 20 October 1963. d. Mars conj. IC.
25 June – 29 December 1963. c. Mars conj. IC.
Directions of malefics to the IC often time period of civil unrest for American Presidents. Many violent incidents of Civil Rights Movement, at Birmingham and at other locations, were timed by these sequences in 1963. It will require further research to determine how these incidents or similar-themed family feuds (Mars/Leo/4th ) influenced Huckabee.
*LOCK* 8 February – 18 September 1964. c. Venus conj. IC. Venus/Leo is the universal significator of glamour. As the sequence started, the Beatles arrived at New York's JFK Airport on 7 February and appeared on the Ed Sullivan show on 9 February. Their North American tour 19 August – 20 September closed out the sequence. Huckabee is tied to this sequence because he plays in a rock band, often listing the Beatles as his favorite musical group.
9 September 1968. d. South Node conj. ASC.
21 September 1968. c. South Node conj. ASC.
While I found no specific events relating to Huckabee's personal life at this time, Huckabee does emphasize 1968 as a pivotal year in defining America's moral decay in Character Makes a Difference. Both directions fall immediately after the 1968 Democratic National Convention, made infamous by police brutality directed by Chicago Mayor Richard Daley against peace activists. I would wager that further discussions with Huckabee would reveal the 1968 DNC a pivotal event in his personal development.
17 September 1996 – 4 May 1998. d. Sun trine Saturn. This sequence timed controversy surrounding the commutation of Wayne Dumond's prison sentence. On 20 September 1996, Huckabee announced his intent to commute Dumond's sentence to time served. This set off a number of events including Huckabee's executive session with the parole board on 31 October 1996 and the parole board's 16 January 1997 vote to allow Dumond's release under probation. As the sequence concluded, the New York Times reported on 14 April 1998 that Huckabee came under fire for education and parole issues in attack ads aired by Democrats in January 1998 prior to his re-election race for AK Governor. He later won that race on 4 November 1998. The NYT report exemplifies the concept that the issues raised at the beginning of a primary direction sequence remain active until the end of the sequence.
2 April – 26 June 2007. d. Jupiter trine MC.
22 August – 4 November 2007. d. ASC trine Jupiter.
Both periods have been marked by favorable publicity underscored by Jupiter's power to act in the current Sun-Jupiter Fidaria period. Event matches for the second sequence: Huckabee received a key New Hampshire endorsement on 22 August 2007 from former Senator Russell Prescott who stated Huckabee spoke from the heart. Jupiter/Leo – sign of the heart – is a match. As the sequence concluded, Huckabee received a flurry of positive press from the Washington Post: "How Huckabee could Rock the 2008 Vote," 3 November; Newsweek: "The Other Man from Hope," 5 November; and The Hill: "Huckabee Could Win Iowa," 7 November.